1 minute reading time
(164 words)
How can I change the colors of SAPGUI per System and Client in Quartz or Belize Theme?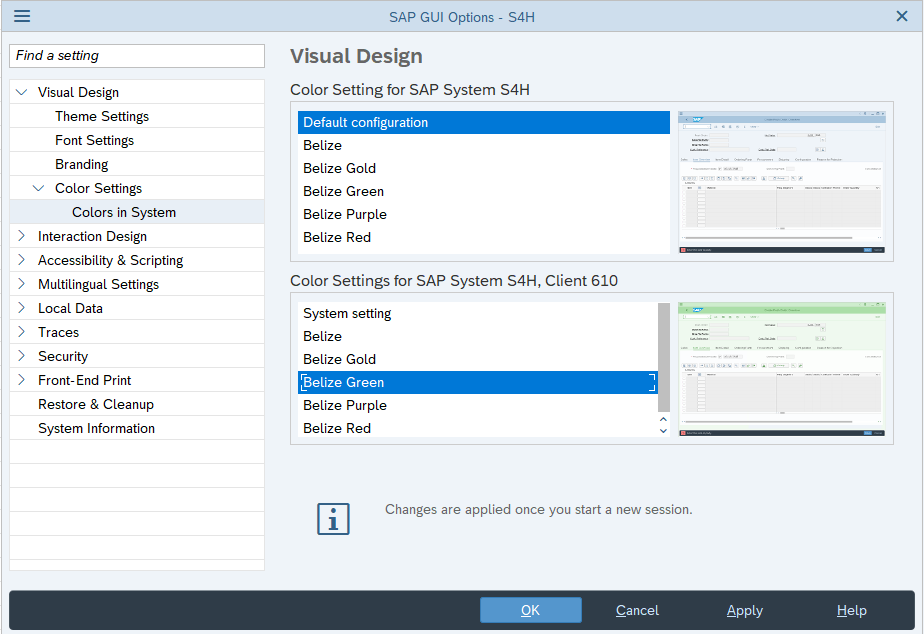 For sure it happend to you as well that you changed data in the wrong system or client. This is not just embarrassing, but can also have serious consequences.
Many users of SAP ECC or S/4HANA are happy to have the possibility to set a specific color according to the system or client they are logged in. While it is obvious in the signature them how to do it, it is quite hidden in the Belize or Quartz theme.
How to do it:
1. In SAP Logon go to the burger menu and choose Options.
2. In Options choose Visual Design > Colour Settings and set Colour per System

3. Go to Visual Design > Theme Settings and make sure, that "Move Main meu to 'More' Button" is set.
4. Login to system and client, whos Colour you like to set.
5. Go to More > SAPGUI Settings and Actions > Options and Visual Design > Colour Settings
6. Set Colour for client or system


Stay Informed
When you subscribe to the blog, we will send you an e-mail when there are new updates on the site so you wouldn't miss them.
Comments
No comments made yet. Be the first to submit a comment