DSAG Workgroup welcomes stock transfer posting with TEW and association in S/4HANA1809
Stock shipment is becoming increasingly important for global trading houses in the 21st century. Many intenational traders maintain their own production facilities and warehouses in order to make import and export processes more flexible and faster. Goods are transported more often and more quickly between different warehouses and must be rebooked accordingly before they are finally delivered to the customer. The disposition of the goods by association is now also taken into account. The exception has long since become an important process step. It is all the more important that SAP global trade management can execute this action with the Trading Execution Workbench. That is the case now.
Watch the Interview with Frank Tychner, SA SE, Product Manager Wholesale Distribution.
Download a detailed description.
When Manufacturers become Traders
The E-3 magazine makes an opinion and says confidently about itself: "No other German-speaking special interest magazine has similarly many opinions and comments." I am pleased to announce in the issue 04/2017 of the E-3 magazine in my guest contribution how GTM can help manufacturers become traders.
You can download the article directly here: When Manufacturers become Traders.
Commissioning and Monitoring of Transports in conjunction with Global Trade Management
On 23 March 2017, the DSAG Working Group on Global Trade Management met in Kassel. On the agenda were new requirements for trading companies and new functions in S / 4 HANA for transport management.
At the working meeting, we discussed several ways how commercial companies can map the commissioning and monitoring of transports using GTM - with and without the software tool Transportation Management (TM). Transportation Management (TM) is a software for logistics companies to arrange, commission, monitor and settle transports. It can be used regardless of sector and forms the entire end-to-end process of a logistics company. Trade is always more than the mere exchange of goods for money. The goods usually have to be picked up by the supplier and brought to the customer. For companies that use Global Trade Management, there are several alternatives to implement these processes - especially with respect to S/4HANA.
TM becomes part of SAP S/4HANA
Already today the functions of the Transportation Management (LE-TRA), as already present in the ECC EHP8, are available in S/4HANA. With the S/4HANA Release 1709, the Transport Management (TM), which has been available as a separate system since 2003, is part of the S/4 and replaces the previous function. The costs for this so-called Basic Shipment are already covered by the SAP license fees. All other functions require an additional license.
Fleet management with TM
TM is particularly interesting for trading companies that manage their own fleet of vehicles. But TM also makes life easier for retailers without a fleet. While the previous solution only allows for scheduling and commissioning with regard to delivery or delivery, TM can also be used at the level of customer orders or orders. Small disadvantage: This function is not included in the Basic Shipment.
GTM can also be used without TM
GTM can also be used without TM. In this case, the documents required for the commissioning of transports are generated from the trading contracts or from their subsequent documents. In the standard version, SAP provides action classes that allow you to create Shipping Instructions as a separate document. Shipping and transport information must then be added as customer fields in the contract or the subsequent documents. This is thanks to the very good extensibility of GTM easily possible.
Posting Collective Invoices
For the settlement of transports, tradiung companies must, above all, have the possibility to post collective invoices. These must be assigned to a transport or a contract. Here TM also provides the necessary functions, but not within the framework of Basic Shipment. Without the use of TM, the expenses settlement of the agency business is used, which in any case is very well connected with GTM since it was conceived and implemented by SAP from the same team. It also offers the possibility to post collective invoices for the same reasons.
DSAG Work Group Global Trade Management
Since 2011 I support trading companies implementing SAP Global Trade Management (GTM). Because my customers in the metropolitan area of Hamburg, Germany wanted to know how other trading companies work with SAP GTM I organized 2013 the Hamburg GTM meeting. This meeting was the also the reason to found 2014 the DSAG Work Group Global Trade Management who's speaker I am.
The participants of the first SAP GTM meeting in Hamburg

The aim of the work group is to support the experiance exchange of the german speaking users and to improve GTM togehter with SAP.
This is done in workshop in which we discuss selected trading processes and how they can be implemented better by SAP. All companies which use GTM are invited to join us. All work is done in german.
Global Trade Management in SAP ‒ great potential for companies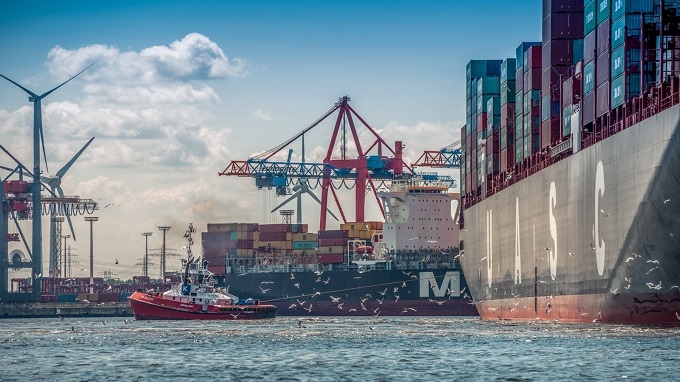 The primary business process for all trading companies is organising and managing the flow of goods and services. If possible, the simultaneous handling of purchasing and selling should be carried out within a single department. Of crucial importance is a structured and clearly-laid-out organisation of purchasing and selling activities. Trading transactions can be carried out conveniently and economically with the standard SAP module GTM (Global Trade Management). The benefit to companies: business processes are considerably accelerated with no increase in staff size.
SAP GTM is superior to other systems by virtue of its reliability and detailed representation of business processes. The high degree of openness also offers the option of implementing a broad range of customisations and additional specific add-ons. Scarcely any other software is able to link one-sided purchase trading contracts with sales trading contracts and thereby create a direct connection to position management.
Preparing for introduction
Before the system can be implemented successfully, the company must decide which trading processes are to be mapped. The ideal tool for this purpose is a study that establishes in advance which processes can be mapped with standard settings and for which processes individual add-ons need to be developed. After that, the cost estimate can be calculated before the project goes into the planning phase. A project period of from six months to one year is required, according to the usual estimates, for successful implementation. It is time well invested, considering the potential for substantial savings.
Implementing the system
GTM consists of four key elements: Trading Contract, Trading Expense, Position Management and the Trading Execution Workbench. The main function of the GTM module is the Trading Contract. With this function both one-sided and two-sided contracts can be created. By linking purchasing and sales, two-sided contracts offer the option of carrying out both of these business processes in parallel. This minimises stock-keeping requirements, resulting in savings in terms of time and costs. Planned and unplanned expenses can be entered and processed in the integrated "Trading Expense" component. This enables a clear representation of costs along with a more precise valuation of profits.
GTM is suitable for any company that engages in any form of trade. If you already use SAP, then you benefit from the fact that SAP GTM is a standard module. That is to say, it imposes no additional licence fees on the company. There are no costs to invest other than the costs of introduction.
Are you already using SAP MM for purchasing and SAP SD for selling? No problem! Documents created in MM or SD from GTM can also be processed from GTM alone. There is a clean separation between trading business and other operating business.
Unfortunately, SAP GTM is not included in the IDES system (see note 587170). Those who would like to test GTM in IDES must copy the settings from the 000 client and expand them. The procedure is described in the GTM introduction guide, which is included in note 1539636.
Another option for testing SAP GTM is to use the SAP Best Practice that is available for ECC 6.0 EHP5 (see note 1576846). You will find the SAP GTM Help Texts here.
We will be happy to assist you in setting up SAP GTM for testing purposes on your testing system. If you have yet to become an SAP customer, we will be happy to demonstrate the functions of SAP GTM for you.